Mind Over Body Weight Management™ Courses
Do you self-sabotage your weight loss efforts?
Have you managed to lose weight in the past only to have it all creep back on again?
You know what to eat and what not to eat, but you find it really hard to stick to it.
This constant cycle of weight loss and weight gain is difficult and frustrating and can leave you feeling helpless, unhappy, and with very low self-esteem.
Do you want to lose weight for the last time?
LEARN CBT SKILLS TO HELP YOU STOP YO-YO DIETING
Adding CBT to any weight loss programme has been proven in hundreds of studies to be more effective than diet and exercise alone.
CBT is a clinical psychological approach to help you make habit changes and stop that inner voice that keeps sabotaging your best efforts.
The 3 phases of the programme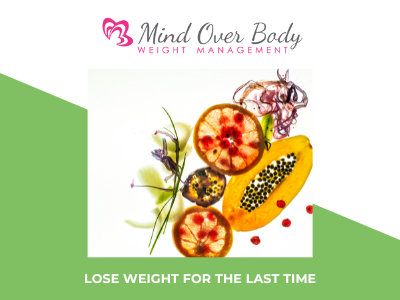 Preparing for success
During the first phase, you will get to understand how your mind has been sabotaging you at each and every weight loss attempt and how we are going to work on overcoming the inner voice that puts an end to your best intentions.
We will assess your relationship with food, discuss your goals and look at your diet history. You will get a healthy nutritional plan that has been put together by nutritional therapists and guidance on how to make changes in your day-to-day life.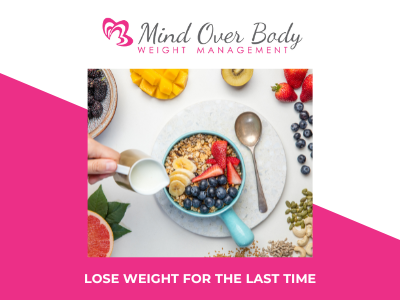 Creating healthy & sustainable habits
You don't need willpower to manage your weight. You need the skill power. In the second phase, you will be working on creating healthy habits and begin to understand what your emotions and triggers are that lead you to overeat.
Creating habits is a skill and takes time as you are creating new pathways in your brain. The second phase is all about supporting you as you create healthy habits and learn to stop that inner voice that keeps sabotaging you.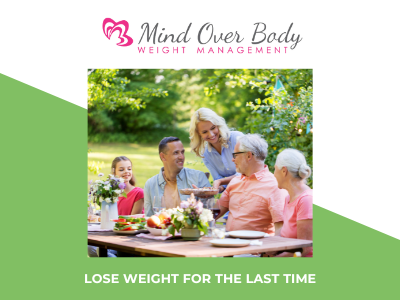 Maintenance skills
How many times have you lost weight and regained it? Most people regain weight and there are many reasons for this.
During this last phase, you will be supported and given the tools to help you maintain your new habits. Once you have learned the tools on the programme you cannot unlearn them. They will stay with you forever and will help you to lead a healthy and fulfilling life.
Empower yourself with life skills to make lasting changes for your health & your life.
How is the Mind over Body Weight Management Programme different?
Most diets focus on what to eat and what not to eat. The Mind over Body Weight Management programme provides you with healthy nutritional guidelines that don't require you to count calories or weigh your food. In addition, you will also learn to understand what has been holding you back and address your triggers and sabotaging thoughts.
Most people struggle to implement healthy habits and unlearn unhealthy ones and after completing the programme you will know how to overcome your triggers to reach your goals, and how to maintain motivation long term.
The use of behaviour change techniques makes the programme unique, as you will learn tools for life helping you change habits and create new ones.
The programme is based on hundreds of scientific research studies that have shown that adding CBT skills to healthy nutrition is more effective than diet and exercise alone in achieving weight loss.
Take charge of your life now and don't wait for the "right" moment. The time is now to begin your journey to a healthy life, now and in the future!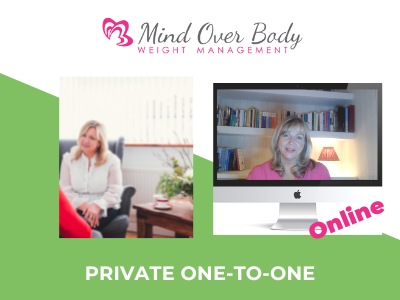 1 to 1 in my clinic or via skype
1 to 1 weekly private coaching sessions with clinical director Susi Lodola, either in person or via Skype/zoom.
Susi works with her clients confidentially to help them overcome emotional eating, disordered eating, and self-sabotage.
During the programme you will be supported to change habits and create new healthy habits. You will learn how you can nourish yourself to eliminate cravings, and understand how your mind can be trained to overcome self-sabotage.
International program – you can join from anywhere in the world.
8 x 50 min private consultations helping you kick-start your journey to a healthy
lifestyle.
Step by step guide helping you change the way you relate to food, overcome cravings and triggers and put an end to yo-yo dieting. I will take you step by step through a programme that will help you put a stop to that negative voice in your head that has been sabotaging your weight loss in the past.*You will have the opportunity to learn how to stop self-sabotaging your efforts to a healthy lifestyle, based on the most successful method to permanent lifestyle changes based on international research.
During the consultations, we will be working together to help you get the right mindset which will enable you to stay on the healthy lifestyle plan.
We will work together on overcoming your triggers and how to stay motivated.
We will also work on emotional eating and how to stop it.
You will get a healthy nutritional plan which will fit in with your lifestyle and I will show you how you can implement it into your daily routine, one step at a time.
You will also get recipes, meal planners, and the Mind over Body programme manual which is full of helpful tips and worksheets helping you on your journey to permanent lifestyle changes.
This programme is different as losing weight is not just a physical process of eating less and moving more. It is also a mental process, which most weight loss programmes do not address. This programme goes beyond giving you motivational tips. On the programme you will re-wire your brain based on neuropsychology, CBT and Mindfulness. You are supported through the programme by highly trained professionals.
Cost: € 640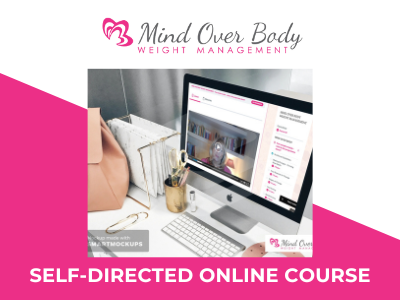 Self-directed online course
The Self-directed course gives you the psychological tools to help you stay motivated and stick to your weight loss plan. Do this course from your home at your own pace. Each module has videos of Susi coaching you to learn how you can overcome unhealthy habits, create new healthy ones and learn how your mind can be trained to stop that inner voice that keeps stopping you from achieving your health and weight goals.
The course also included your nutritional guidelines, worksheet, and motivational material.
Join from anywhere in the world.
11 modules consisting of videos, worksheets and information which will show you how you can make lasting changes to your habits and end self-sabotage.
Nutritional Guidelines
Kickstart pack with recipes and shopping list to make it easy for you to start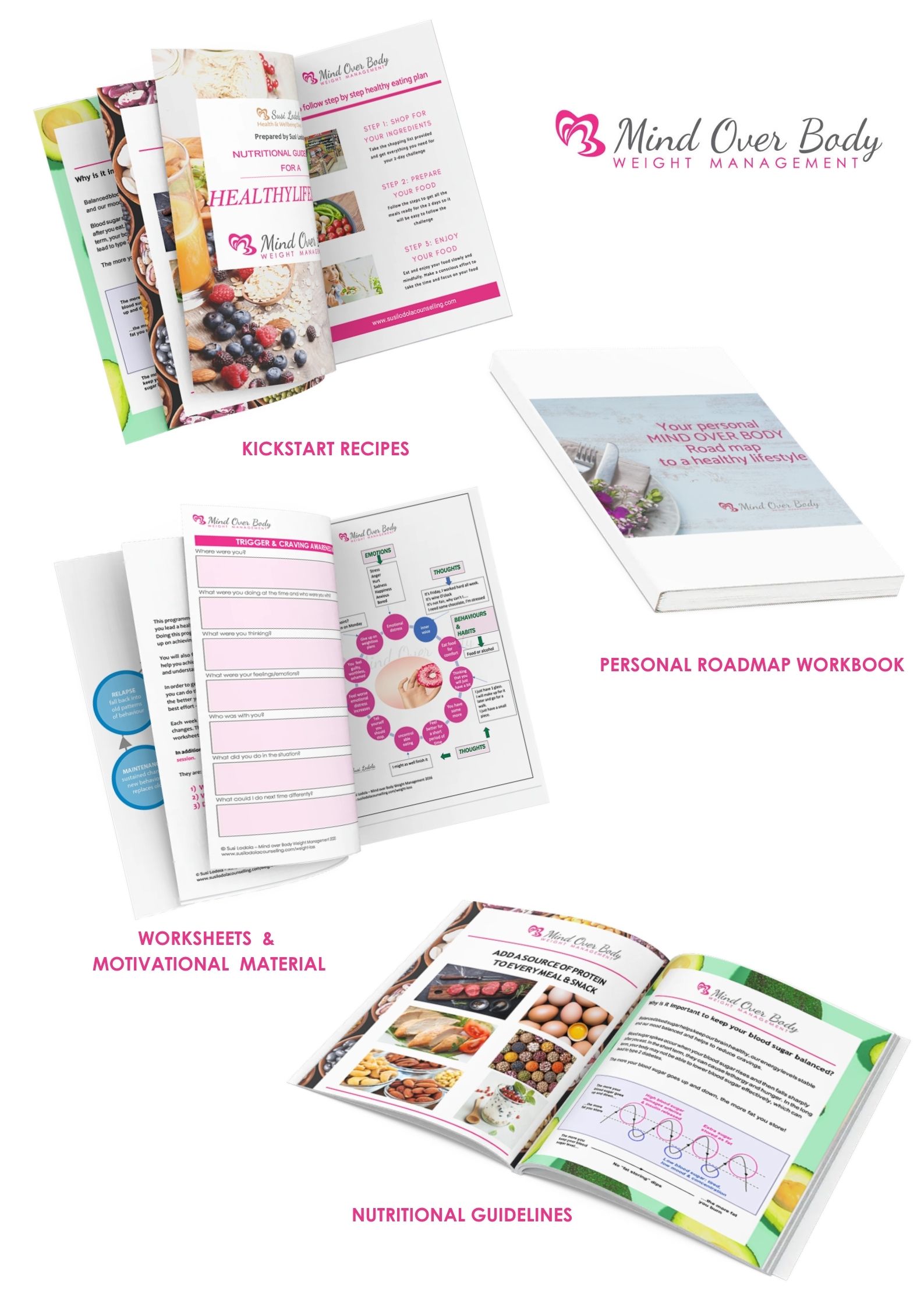 After you purchase the course you can go straight to the log in section on the website and start immediately.
Once you are logged in you just follow the modules and work your way through each module at your own pace.
The best way of going through the self-directed course is to take your time. The material is broken into modules, and it is best to dedicate 1 week to each module. You will lose weight throughout the programme once you apply the nutritional guidelines and work on your mindset by following the videos and worksheets in each module.
Cost: € 145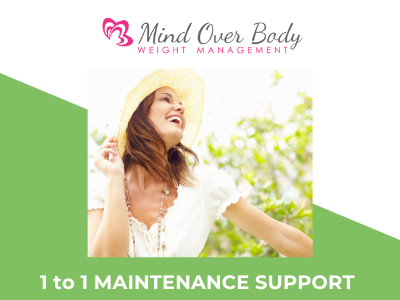 Maintenance programme
After completing the 8-week programme you can avail of further 1 to 1 support.
All your newly learned skills from the programme will have made a huge impact on how you relate to food. However, to achieve long-term change it is important to keep applying them. Susi will support you and will keep you accountable to continue with your healthy habits.
Ongoing support is an important element to the successful maintenance of your new habits and lifestyle.
The support sessions are 30 minutes and you can purchase blocks of 5 sessions.
Sessions can take place online and you can schedule them as and when you need support.
5 x 30 min private consultations
1 to 1 support
Monitoring of your new habits and problem-solving difficulties you may encounter.
Cost: € 190
What the programme will do for you
Better sleep

Improved energy

Decreased stress

Improved body image

Improved vitality

Change your habits around food

Put an end to emotional eating

Put an end to yo-yo dieting

No more self-sabotaging your weight loss efforts.

You won't be hiding when pictures are taken

Buy clothes that you like not clothes that just fit
Skills you will walk away with:
Retrain your mindset to replace "Diet" mentality

Transform your sabotaging beliefs and thoughts

Nourishing yourself to eliminate food cravings

Recognising emotional eating and knowing how to change it

How to get back on track after making unhealthy food/drink choices

How mindful eating will help you feel fuller and more satisfied

How to keep yourself motivated

Planning for holidays/nights out/special occasions

Understand the difference between hunger and cravings

Overcoming your triggers

Have the tools to maintain your new habits for the rest of your life

Self-confidence and the ability to cope with emotions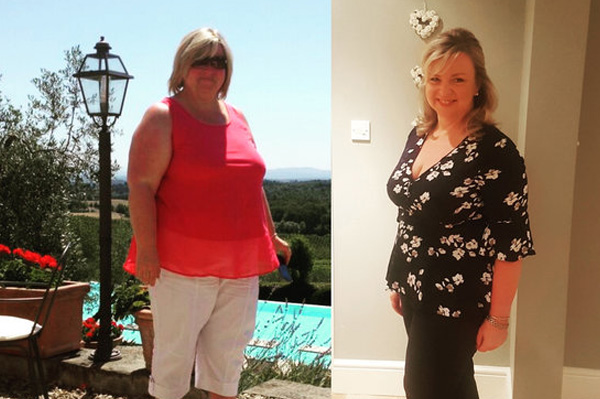 MEET THE FOUNDER, SUSI LODOLA
I went through most of my life trying out the latest diets and exercise regimes which promised to help me lose weight.
I counted calories, points and syns, I cut out whole food groups, detoxed and drank shakes. I did lose weight on most of those plans, but I found it difficult to sustain and very soon the weight came back on, and then some more on top of it.
The thing is, I knew exactly what I should eat and what I shouldn't it. Most of what I ate was healthy, home-cooked food. However, I was an emotional eater, and I found that is the case with most people who come to see me for weight management.
Often emotional eating is the root cause of overeating and my training as a therapist and qualifications in CBT allow me to coach my clients to help them work through various problems such as anxiety, low self-esteem, relationship issues, and other emotional issues leading to overeating.
I have been a regular contributor to the Irish Times, Virgin Media one, and have been featured in the Irish Independent, Irish Daily Mail, Evoke and Today FM.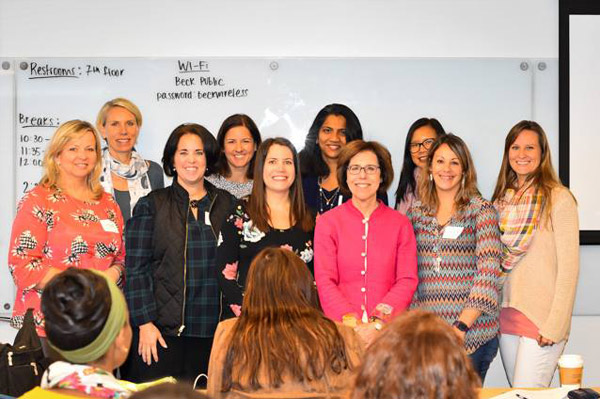 RESEARCH-BASED APPROACH
It is important to me,  to continually update my skills in light of expanding knowledge about human development and psychological well-being.
In October 2018 I attended a 2-day workshop at the Beck Institute in Philadelphia where I updated my skill in CBT for weight loss with the most eminent expert in the field, Dr. Judith Beck. The Beck Institute is the home of CBT and Dr. Aaron Beck was one of the founders of Cognitive Behaviour Therapy.
In this workshop, I learned the latest evidence-based strategies aimed at modifying my clients' thinking and behavior so they can make permanent changes in their eating and lose weight.
I also completed a Masters in Cognitive Behaviour Therapy, and my research study and dissertation was based on applying CBT for weight loss.
I create a safe and non-judgemental environment in line with the ethics and standards of the Irish Association of Counselling and Psychotherapy (IACP).
Sophie Little
This programme helped me get to the root of my overeating. It helped me to gain an understanding of my triggers and the complexity around why I use food to connect to loved ones and also as a means of reward.
The input from a nutritionist was different from other weight loss programmes., as it informed me about the nutrition aspect of food.
Susi helped me to understand goal setting and has increased my confidence in believing I can achieve my goal of running. I am even working out with a fantastic personal trainer who is also very understanding and motivating.
At first, I did not focus on changing my eating habits but on learning why I behaved this way. I feel I am now equipped to begin the journey to discovering life without constantly beating myself up over my disordered eating.
Susi can not do enough to support her clients. I found Susi to be very understanding and supportive. would wholeheartedly recommend her programme. Susi looks at why a person might overeat from every perspective. She teaches the common thought cycles that people think that usually end in starting a diet on Monday.
I feel that anyone that would like to lose weight needs to do Susi's course first. Get to the reasons why with no judgement at all. 
Susi gifts her clients self-esteem and confidence. I loved all the knowledge she gives. Week on week my knowledge built by doing the worksheets.
I loved Susi's approach, she always made me feel great each week and celebrated each tiny step. There really wasn't a focus on the weight itself.
Susi holds space for each client in her group. It is a very safe and welcoming space.
Carol Berigan
First off I would like to say how much I have enjoyed the classes, both the highs and the lows. I didn't think that I would have enjoyed them as much as I did. I found the content to be extremely informative. I would have always been of the philosophy the only way to lose weight is the old adage "you eat less and you move more" and while that does have some merit it has obviously never worked for me (I move more & forget the eat less bit ????).
Previously, I would struggle with dieting for a while and then give up "it's obviously not working", "what's the point". But now I have a new perspective on my challenges, it's not so much an uphill battle but more of a serpentine trek through the forest while I forage my new directions.
I think some of the most important things I have taken from the course are eating mindfully, never did that before just ate everything in front of me. I also love the idea of the "5 minutes" sometimes it works and I get distracted by whatever I'm doing and sometimes it doesn't.
The reasons why, setting goals and giving yourself credit are some completely new ways of looking at weight loss to me. I think I do look at the negative sides a lot and not the good things that I have done and will do, so this is something that I really want to work on..
I would well recommend the programme to anyone who may be looking for a different perspective to weight loss.
I would like to wish you all the best with your next course of classes and who knows you might see me back in the future (but I hope not, in the best sense????).
A million thanks again for all you help,
Renata Anukaite
I found 8-week Mind over Body Weight Management programme very beneficial. At the start, I didn't think it will help me and I was very apprehensive. I have had negative experiences before from other programmes which has let me down and I didn't believe in myself that I can do it again. But I was willing to give it a try and I promised myself to be patient. To my surprise slowly I got used to eat more healthily every 3 hours. Instead of having sweets or cakes as my snacks, I replaced them with healthy snacks and slowly my cravings for sugar have faded away. Besides, i got used to having 3 healthy meals a day. I was delighted to know that I have managed to lose 6 kg in total as well. Eating mindfully has helped me to slow down, enjoy the food better, and make healthier choices. What mostly helped me this time was addressing the Mind, addressing the Emotional Eating and look deeper and do a bit of work (this was missing in the other programmes) .I am happy that with Susi's help I was able to tackle the most challenging area for me. So I am very grateful to her for this gift. Thank you, Susi.
Deirdre O'Shea
Since starting the programme with Susi I can see how having been in other weight loss groups were just quick fixes. I would stick to a points system, lose weight but it wouldn't be long before I put it on again. I was learning nothing. With Susi I am learning to change my thoughts and attitude toward food. As I learn new habits and behaviors I lose weight and have a better relationship with food.
Janice McHugh
I needed help in changing my ways and understanding what I was eating and why? On week one I was very emotional about discussing my eating and just wasn't sure how the session was going to be. My fears and anxiety soon left me as I met Susi. Session one was so supportive and each session with Susi was so different, but yet it all led to the same outcome of how we would change our ways and set our life changing goals. Susi led each session with compassion and positiveness and at the end of each session I had so may new ideas and goals for the coming week. All the new habits and coping mechanisms I had learned on the program helped me to stay focused on my goal.
Tina Cosgrave
I needed to get started to lose weight and change everything about my eating habits. Before I wouldn't eat maybe until the evening or I would I have snacks like chocolate bars or Muffins and filled sandwiches then I would bring chocolate home to have after my dinner. I also often made excuses to not cook and have a take-away. I always felt that if I didn't eat during the day then why not have it. It wouldn't be bad for me……Well that's wrong.
I think looking back most of the time I ate the wrong things I was telling myself a lie about how it wouldn't matter. We all know there are many reasons why we gain weight, some people struggle their entire lives with weight problems but for me I started gaining weight in my late twenty's, I was always really active and fit, playing a load of sports, I stopped this in my late twenty's and just assumed my body would stay the same because it had never changed no matter what I ate.
I know it's a mixture of lack of movement and run of bad personal circumstances which I believe lead to a depression for me. Of course, food and exercise can't fix every problem a person has but it can really help your belief in yourself to accomplish the harder things in life. You might be thinking this is very deep just for a diet, but I feel this course is more than that. I found it tough to change my habits in the first few weeks, I was skipping meals and hoping I would be okay, although this time I wasn't thinking it was OK. I knew it wasn't helping me.
The first week I didn't want to see the number on the scale, I thought to myself that if I knew how big I had gotten then it would send me into feeling sorry for myself and not the motivation that I needed. I asked Susie not to tell me. She did that with no questions as to why or making me look. I really appreciated that at the time as it was quite emotional for me. The course has really taught me a number of things, I know now about a healthy meal plan, how to deal with sabotaging thoughts, how to be mindful of what I am eating and also mindful of my thoughts and how they can affect the good that I do. How to be strong when out in a group and feeling the pressure to break plan and how to have an internal "chat" with myself. Before dealing with all the negative thoughts that would totally take over, the course has taught me on how to overcome those and deal with cravings 5 minutes at a time. Because as we know we all get them but we don't have to give into them.
The hardest thing for me was to learn how to be kinder to myself and not be so self-conscious and self-critical, Susi and the course taught me that when I have these thoughts how I can deal with them and I will be forever grateful. The first week was about organising myself and making sure I was planning ahead. That's one thing that will really help if you are doing this course, what is it that the Scouts say "Be Prepared", well it for sure helps with this plan.
If you have prepared your food, there is no way that you can feel hungry if you are eating every three hours, I have been on other plans before where I felt that all I wanted to do was give up because I was starving. If you eat on plan you wont be hungry I was never hungry… The weeks passed and I did come across situations where it was difficult to keep to plan, like a 50th Birthday party for a family member I knew that like at most parties there would be platters of food coming around later and a load of alcohol. So, what I did to help with that was to make sure that I had my dinner closer to when we were heading out and making sure that I drank all the water that day so I was full going. I used to think ah sure I won't need dinner tonight there will be food at the party. Strangely enough when the food came out I wasn't interested in it at all, it didn't look nice…..I also worried about not having a few drinks at the party but I drank water all night. Some people don't like to see you drinking water, I wonder do they think badly of the amount they are drinking themselves. I had a few comments about not drinking but I didn't care, I am doing this for me and not them. on the mend on my own and do well.
There was one week I just wanted to give up but I mustered through with the tools that Susie had given me to speak to that little voice in your head with the negative thoughts and quieten it. I lost weight each week and I think that it because I attended the course and I could see that it was working. No matter how small a loss be it 1kg it's a loss and its weight that is no longer on me.
Elaine Sheridan
This course was unlike any other weight loss programme but was the most successful. It taught us to understand the psychology behind our weight loss & gave us a clear road map for continuing on this journey. A fantastic course I would highly recommend it.
Caitriona O'Callaghan
I started an 8 week programme with Susi in February to try to get to the bottom of what was preventing me from taking steps to lose weight. I had come into the new year feeling unhealthy, stressed, overwhelmed and unable to see a path which would allow me to make any breakthroughs in relation to my weight. I said to Susi at the outset, I know what I have to do but I just can't seem to do it!
Through my sessions with Susi I came to realise that weight loss is not just about eating less and moving more, you have to address your mindset. I learned about myself, how my mind works and the huge impact of stress. I became aware of my own habits, triggers and sabotaging thoughts and more importantly I wrote these down! I learned how to better manage the internal conversation in my head, usually self-berating and give myself credit for things I was doing well every day. I also learned about the importance of setting small, realistic goals. My goals were always too big and ultimately when not reached I'd feel completely deflated. I was operating in a vicious circle that was counterproductive and demotivating.  The tools Susi gave me can be applied to all aspects of your life not just in relation to weight-loss.
While I'm very much still a work in progress, I no longer feel overwhelmed by how much weight I have to lose or like a failure if I have a bad day. Simple things like reading through my sabotaging thoughts or setting a small goal help me to reset, so that one small mishap doesn't turn into 6 weeks or 6 months of sabotaging behaviour! Thank you Susi for your help and reassurance in all sessions and for always being so personable and lovely.
Donatella Porceddu
I joined Susi's Mind over body – CBT for weight loss program last June. It turned out to be trasformative in the way I look at food and it encouraged me to take some important steps towards a healthier lifestyle. It's just so much more than a diet & exercise plan which never really works for me in the long run. I really enjoyed interacting with Susi. She established her presence in the Facebook weight loss group without being overwhelming and always showing understanding and kindness in every conversation. I found the program intense but excellent. There's a bit of journaling required which turned out to be super effective in stimulating a true understanding on the underlying triggers of my overeating and bingeing. I completed the 8 weeks program to find I have dropped few pounds, but most important, I feel empowered by the new tools I learned and a changed mindset to overcome future setbacks. I feel confident I can keep up the good work! Thanks a million Susi!
Carmel Mythen
Every other weight loss programme I have taken part in always dealt with what, where
and when you ate and not why. The focus was always on cutting calories and replacing
everything with low-fat and low sugar products. Your daily calorie allowance could have
been made up of snickers bars for all it mattered.
I really liked the nutritional information I received.. I am sure I heard it all before but I have got to a stage in my
life where if have lost all interest in food and the importance of the food as fuel for energy.
I grew up in a self-sufficient house where my Dad was a baker and my Mam was
dressmaker and crafter. So, I reared my family in the same way for 40 years and I believe
I just burned out. As a joke I used to say I would live on pills if I could and never cook
again, so convenient food became my drug. So the dietary information provided was
excellent and I am starting to enjoy making healthy meals and snacks again.
I felt 100%.supported and I knew the help was there if I needed it.
I would recommend this programme to anyone for weight management and lifestyle changes.
Audrey O'Toole
I highly recommend this course. It has been life-changing for me. I knew I needed something different after years of slimming classes. In the 8 weeks that I did the course, I have changed my relationship with food. I have so much more awareness and can't become unaware, so I feel like I have gotten to the root of my problem of overeating. The food plan was simple and the class was enjoyable, informative, and supportive.
I feel like I learned skills that I can apply to other areas of my life too. I lost a stone in weight during the course and am still losing weight and enjoying my food more. I am really grateful to Susi for putting together and delivering this course.
Jennifer Little
I have discovered that Susi's tagline 'lose weight for the last time' might actually be possible. I've tried to lose weight since I was a teenager but always put it back on. With Susi's programme I learned to change my thinking and my habits around food. My weight loss is slow but it feels different to any other experience I've had so now I believe I can keep it off. Each week's theme and materials matched what I needed very well and I feel like I have made real change. Susi practices what she preaches. She has a real understanding of what issues with weight feel like and communicates with empathy and kindness. This really helped me to engage with the programme and keep going.
Anne O'Gara
What I'd like to say about your programme is that I found it very much a personal discovery of my ability to change my eating habits by thinking about and planning my day, not only my diet, but also my feelings about it as well.
Its very much a thought-provoking programme, and you deliver it in a very personal and intelligent way, helping me to rethink my own ability to change in very simple and effective ways.
Denise F, Dublin
I was curious to see how the whole process worked and how it would impact my life. It amazed me how the mind works and with the tools we received from Susi have helped in my way of thinking. I have continued to use these tools on a daily basis and it really has helped me to stay focused on my weight loss journey. Susi is such a lovely person and a great listener.
Sarah Larkin
I've always struggled with my weight, I'd lose some for a while and then put it back on again and then some. In the last few years I have tried different weight loss programmes which worked, but only for the short term.
When we got engaged in June 2016 I said that I wanted to lose weight for the wedding, because of the continuous celebrations that followed the engagement I ended up putting on more weight. I tried several times in the 1st year of our engagement to lose weight but with so many plans being made for the wedding everything was a reason to celebrate, and my idea of celebrating is treating ourselves to dinner out or a takeaway.
A friend of Philips had previously done the programme and told him all about it as it had really helped them to lose weight. I was a little bit apprehensive about it as I felt this could be another short term solution to what was my long term problem. I obviously couldn't have been more wrong.
After my first session I knew that this wasn't like all the other weight loss programmes. Susi goes into detail on why you look at food the way you do, she talks about what triggers your eating habits, how you may feel mentally and physically after eating certain foods and educates you on how to make better decisions surrounding your diet and this was a huge help for me.
I would definitely recommend the programme to anyone looking to make a positive change in their lives in relation to how they look at and treat food. Without doing the programme I wouldn't have realised my own triggers which are feel good factors, I habe now learnt that I don't need food to reward myself.
Mary Banks
I really enjoyed the Mind over Body Weight Loss program. It was very motivating and encouraging. Unfortunately during this program we suffered a family bereavement so I found it hard to remain focused but I still found the material invaluable. Susi is always there to respond to any of our concerns. I highly recommend this program.
Aoife O'Brien
I recently completed Susi's CBT for weight loss program. I am delighted with the results. I didn't feel ready to join this program, but when would I ever feel ready? So I decided to bite the bullet and join. Although the focus is on losing weight, this is really more of a lifestyle change, which is exactly what I was looking for. The program uses specific tools to develop our understanding of ourselves, and put in place new habits which are better for us in the long run.
In the past I have managed to lose 2 stone at a time, by myself. But over time the weight crept back on because I didn't tackle the underlying issues. This time I lost nearly 8Kg (17lbs) in an 8-week period which I am delighted with. I also feel equipped to keep up the good work on my own with all of the tools provided and habits developed on the course.
I started to feel more confident in myself after only a few weeks. Now I feel healthier, more confident, my clothes fit better (and some are even too big for me now!). It has had a knock on impact on other areas of my life too… applying the same tools to get similar great results!
Susi takes a sympathetic approach, but also holds you accountable to what you said you would do. She provides detailed feedback on the weekly worksheets that need to be completed. I feel I have learned some great skills and habits that I can continue to use on my weight loss journey. Thanks so much Susi for your support!
Lu Lopes
I would highly recommend Susi's Mind over Body weight loss Programme. It is not a diet, it is about learning how to eat healthier and being conscious of your emotional eating. I am so happy I have followed this program, I have learned a lot and I know how to make healthy choices now. Susi is very supportive, helpful, always available, I felt I was always listened to and always connected with her. Thank you Susi!
How can CBT help you lose weight for the last time?
Losing weight, keeping it off and improving your fitness is a physical as well as a psychological process.
The reason why various diet and exercise programmes do not show positive long-term results in weight loss is, they do not address those underlying psychological issues of why you overeat and how your mind is key to changing your relationship with food.
In order to address those underlying issues, CBT has been identified to be a key component to help people achieve weight loss in a sustainable and successful manner.
So what is  Cognitive Behaviour Therapy (CBT) and how can it help you lose weight?
Losing weight and maintaining it, requires learning new mental skills and identifying thinking patterns, and behaviours that have hindered your weight loss in the past. Learning those new mental skills and behaviours will rewire your brain and it will make you change from the inside out.
This is how it works:
The CBT model is defined as "What you think, influences what you do and how you feel". Your thoughts, feelings and behaviours are linked and cannot exist in isolation.
Most people believe that a particular situation is causing them to eat something they hadn't planned. However, it is not the situation, it is the thoughts that make you behave a certain way.
For example, you may feel stressed or tired at the end of the week and believe that stress and tiredness cause you to order a takeaway/drink a bottle of wine etc. The fact is, it is never the situation that makes you behave a certain way, It is actually your thinking about the situation/trigger which leads to overeating.
Those thoughts are something like "I had a stressful week, I deserve…." or I am too tired I will have some chocolate to keep me going", or " eating something is the only thing to help me calm down".
Those are sabotaging thoughts, and happen once you are in a trigger situation. CBT will help you identify your trigger situations and your sabotaging thoughts. Once you have identified what sabotaging thoughts you might have in the future (or had in the past) that will cause you to go back to old unhealthy habits, you can learn to respond with more helpful thinking and change the outcome.
Neuroscience has demonstrated that this process rewires your brain and your automatic sabotaging thoughts are replaced with helpful thoughts that will  help you:
overcome emotional eating
identify sabotaging thoughts and behaviours
motivate yourself and stay motivated
understand  neuroplasticity and how the brain can be rewired to think in a different way
become more tuned into your eating habits through mindfulness
understand the difference between hunger and cravings and how to overcome cravings
learn how to stay on track
Get in Touch
Ready to change your lifestyle, stop dieting and start enjoying your life? Contact me today and let's get started!