MIND OVER BODY WEIGHT MANAGEMENT PROGRAMME
Psychology of Weight Management

Change the way you relate to food
The Mind over Body Weight Management Programme™  is different from other weight loss and diet programmes because we understand that a fit and healthy body also needs a fit and healthy mind. Losing weight is more than "just eat less and move more". You also have to train your mind in order to stay motivated and overcome triggers such as emotional eating.
This programme is for you if you have been on various diet and slimming programmes in the past, have lost weight only to regain it after a period of time. Once you are restricting your food intake
Do you self-sabotage after a few weeks on a diet with thoughts like:
I worked hard all week. I deserve a treat/reward.
I am too tired for exercise.
I had one biscuit; my plan is ruined I might as well have another 5!
I am stressed! I need some chocolate.
Those thoughts are unhelpful or sabotaging thoughts. One of the reasons we self-sabotage is that your conscious mind wants to lose weight, but your subconscious mind is fighting it. As your subconscious is much stronger than your conscious mind, it tends to win most of the time.
The good news is, that psychological science is now accepted internationally as the missing link in helping you overcome triggers such as emotional eating and help you make peace with food and your body.
The truth is, diets don't work. Hundreds of research studies have demonstrated that over 90% of people who lose weight regain lost weight and, sometimes even gain more weight than they have lost.
What we can help you with
On the Mind over Body Weight Management Programme™ you will be shown how clinically proven tools will support you in:
Putting an end to yo-yo dieting

Overcome mindless and binge eating

Believe in your ability to succeed

Improve your emotional wellbeing

Overcome stress in your life

Build self-esteem and confidence
Manage weight and improve physical and mental wellbeing.
The focus is on health and not the number on the scales
You have two options to choose from, depending on the level of support you require.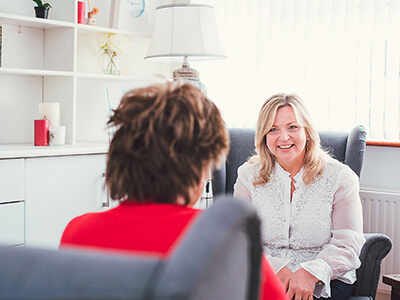 One to One CBT for Weight Management
1 to 1 weekly private sessions in my clinic or via Skype/Zoom.
8-week programme designed to help you overcome emotional eating, identify your triggers, and end-self-sabotage. During the 8 weeks, I will support you to change habits, retrain your mindset and help you to stay motivated. You will discover your ability to change in very simple and effective ways. I work with you confidentially to improve your belief in yourself and your relationship with food.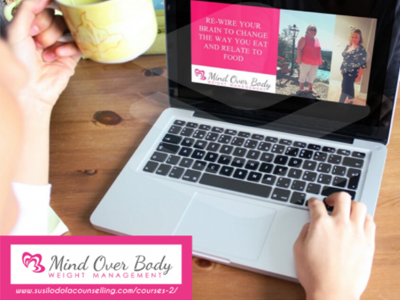 Self-directed online programme
This Self-directed course gives you the psychological tools to help you stay motivated and stick to your weight loss plan. Do this course from your home at your own pace. Each module has videos, worksheets, and motivational material.
Join from anywhere in the world.
Change the way you relate to food.
MISSION STATEMENT
My mission is to improve the lives of others and help people to live a psychologically and emotionally fulfilling life.
I provide a confidential and supportive environment for my clients to help them deal with existing problems but also equip them with skills to deal with challenging situations in the future.
I endeavor to provide the best possible therapy for my clients by continually updating my skills in light of expanding knowledge about human development and psychological well-being.
It is important to me to keep abreast of relevant research into the processes and outcomes of counselling.
Speaking on Ireland AM about dealing with "fussy eaters"
.
It can be frustrating for parents and care givers when a child doesn't eat or avoids some food groups altogether. You can read some more on the topic in one of my blog posts.
Speaking on Ireland AM about Post Natal Depression
Post Natal Depression often goes diagnosed. Speaking about the topic will help raise awareness and will help to normalise it and help to remove any stigma associated with it. Many new Mums or Dads may feel guilty about feeling low after a Baby is born and therefore do not speak up and seek help. Counselling is very effective in helping people overcome PND and the sooner it is addressed the better the outcome.
Many private health insurance providers cover CBT/Psychotherapy, depending on your particular health plan.
Please check with your health insurance provider for information on private health insurance refunds.
Qualifications
MSc Cognitive Behaviour Therapy & Motivational Interviewing (completed 2019)

Hdip Psychology (level 8)

BA Integrative Counselling & Psychotherapy

Professional Certificate in Cognitive Behaviour Therapy

Professional Certificate in Child and Adolescent Counselling

Professional Certificate in the application of MINDFULNESS

Suicide Prevention Training