MIND OVER BODY WEIGHT MANAGEMENT PROGRAMME™
SUPPORT AND GUIDANCE TO A BALANCED LIFE
Have you managed to lose weight in the past only to have it all creep back on again?
Do you self-sabotage your weight loss efforts?
Are you feeling overwhelmed & exhausted?
Are you constantly thinking about food – what you should eat and what you shouldn't eat?
This constant cycle of weight loss and weight gain is difficult and frustrating and can leave you feeling helpless, unhappy, tired, exhausted and with very low self-esteem.
Weight loss programmes and diets that focus only on food and exercise are missing a vital component – they do not look at getting your mindset right to keep you motivated and help you to change the way you relate to food.

Changing your relationship with food and overcoming emotional eating requires learning new mental skills and identifying thinking patterns, and behaviours that have hindered you in the past. Learning those new mental skills and behaviours will rewire your brain and it will make you change from the inside out.
CBT is a clinical psychological approach to help you make habit changes and stop that inner voice that keeps sabotaging your best efforts.
Having tried countless diets, are you always looking to find the one that 'works'?
Yo-yo dieting, trying the next weightless gimmick on the market, and wondering if the cabbage soup diet really does work. Let me tell you right now, that while all diets 'work' to a certain extent if you stick to them, they are not sustainable.
We have a deep-rooted, emotional relationship with food and eating. A relationship that often likes to love and hate us and everything in between.  Hating ourselves for eating that slice of carrot cake or berating ourselves for having seconds, is almost a daily occurrence. This sometimes volatile rapport has a massive impact on how, why, and what we eat. As such, our weight is complex. Unhealthy eating habits can easily drift into our daily lives through the stresses, strains and upheavals of everyday life.
We are sold a very modest idea about losing weight, which is simply not adequate. Move more. Eat less. It sounds simple enough but when it doesn't work, we often blame ourselves and not the diet plan which sold us the idea. Research has quashed these ideas. It tells us, merely eating healthy and exercising is not enough to effectively lose weight and ultimately keep it off.
Diet and weight loss programmes are often missing a vital component to take you past the starting point. What they are forgetting is our mind. That big, internal thought processor which dictates most of our actions.
A fit and healthy body needs a fit and healthy mind. This is where Cognitive Behaviour Therapy (CBT) plays a role in our weight loss journey. The Mind over Body Weight Management Programme™ is based on CBT principles which will provide you with an important and permanent set of tools to change the way you think and the way you behave around food. It is literally focusing on our mind, over our body, to garner the results we are looking for.
Our thought patterns can become a hindrance to our weight loss plans. No matter how strong we feel at the beginning, we need to remember, when it comes to changing our attitudes and behaviours, our minds can be a little stubborn. Breaking out of poor patterns which don't help, and unpromising patterns we often don't recognise, can create a block on this journey that requires us to understand the whys, the how's and the fundamental reasons of our weight gain and loss. Which is why, focusing our mindset will keep us motivated and successful in the long term.
Changing our behaviour, especially the long-term, typical patterns of our daily lives, takes practice. The Mind over Body Weight Management Programme™ is here to support you throughout your weight loss journey, to teach you these skills and help you make the changes needed to not only lose weight but also build a healthier lifestyle.
What to expect from the 8 week 1 to 1 programme
Each week we will spend 1 hour together where I will show you skills that are rooted in psychology that will help you stop self-sabotage and keep you motivated.
The tools within the programme are for life. It is a change of attitude which will encourage you to apply these skills consistently. This will enable you to uphold a healthy weight, a healthy attitude to food and a healthier lifestyle.
You will also receive nutritional guidelines that will support a healthy lifestyle and help you stop cravings.
At the end of the programme you will have mastered how your mind works, how you can change your behaviours to support a healthy lifestyle and how to nourish yourself to sustain a healthy weight.
Working with me will help you-
Identify your emotions and put an end to emotional eating
Put an end to yo-yo dieting
No more self-sabotaging your weight loss efforts.
Increase your self-confidence
Buy clothes that you like not clothes that just fit
Overcoming your triggers
Have the tools to maintain your new habits for the rest of your life
How to keep yourself motivated
Retrain your mindset to replace "Diet" mentality"
Transform your sabotaging beliefs and thoughts
Nourishing yourself to eliminate food cravings
Understand how your mind works and help you overcome difficult emotions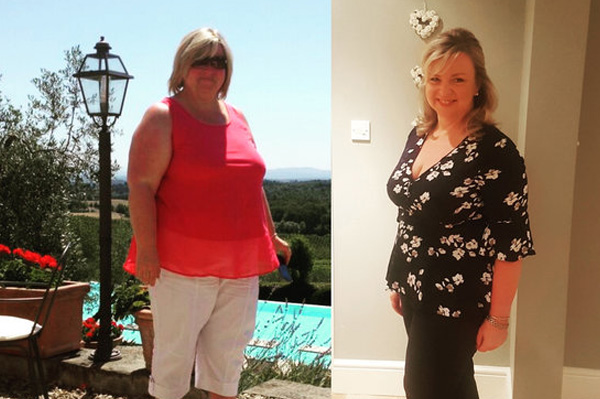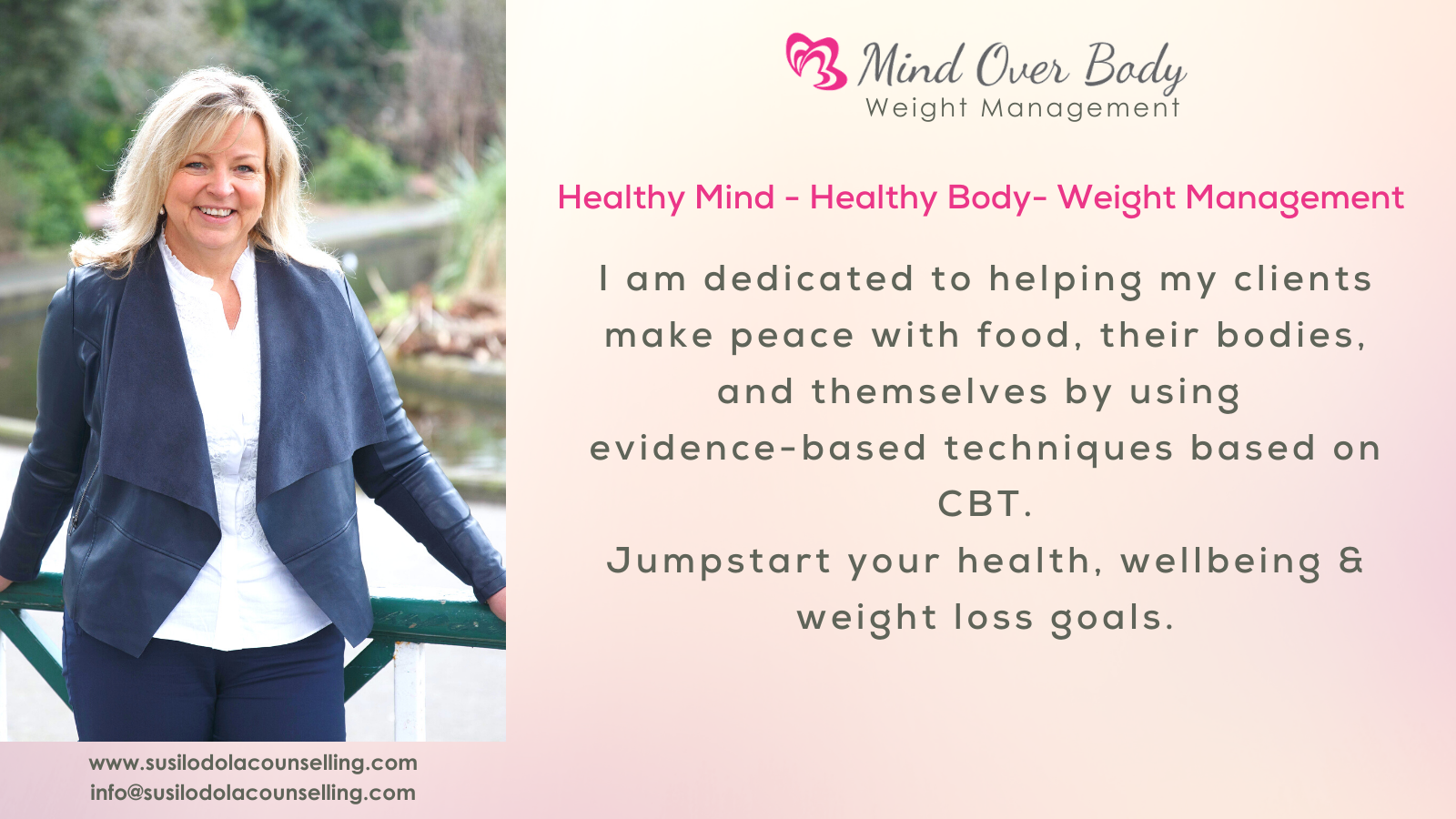 MEET THE FOUNDER OF THE PROGRAMME
Susi Lodola MSc (MIACP)
I understand that to lose weight and keep it off you need more than to "eat less & move more". I learned that through my own experience, as I went through most of my life trying out the latest diets and exercise regimes which promised to help me lose weight.
I counted calories, points and syns, I cut out whole food groups, detoxed and drank shakes. I did lose weight on most of those plans, but I found it difficult to sustain and very soon the weight came back on, and then some more on top of it.
The thing is, I knew exactly what I should eat and what I shouldn't it. Most of what I ate was healthy, home-cooked food. However, I was an emotional eater, and I found that is the case with most people who come to see me for weight management.
Through my own incredible weight loss and fitness journey combined with my extensive studies in Psychology and CBT, I have created the ground-breaking "Mind over Body Weight Management Programme ™", which has helped thousands of people all over the world to learn how CBT can make lasting changes to the way you relate to food and yourself.
To further my knowledege on how CBT can be applied for weight loss I attended  a workshop at the Beck Institute in Philadelphia. The Beck Institute is a leading international source for training, therapy, and resources in Cognitive Behavior Therapy, founded by the father of CBT Dr. Aaron Beck.
On the Mind over Body programme, you will learn the skill of weight loss, based on proven, cutting-edge psychology tools and techniques.
The Mind over Body Weight Management Programme™ in the media.