Become A Mind Over Body
Weight Management Therapist™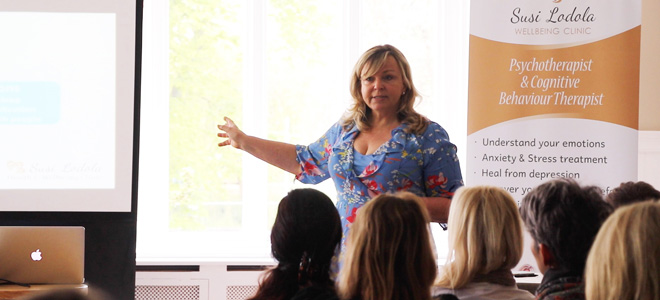 Join the network of licensed Mind Over Body Weight Management

™

programme therapists

Add an additional evidence based service for your clients and attract new clients to your practice with the Mind over Body Weight Management programme. The programme is suitable for accredited Psychotherapists, Nutritional Therapists, Dieticians, General Practice Doctors and Health Coaches who are looking for scientifically researched methods which are recommended in the NICE guidelines, that will help their clients achieve a healthy lifestyle.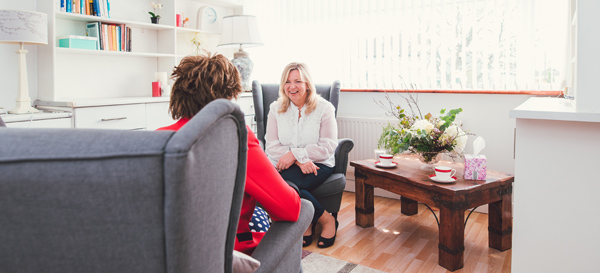 Grow your private practice as a licensed therapist with the latest psychological tools

The Mind over Body Weight Management programme will give you the opportunity to market yourself as a licensed therapist providing your clients with the latest psychological tools helping them overcome emotional eating and self-sabotage.

You can deliver the programme 1 to 1 in person or online, in group format, or through Facebook groups.
The first step is to attend the IACP accredited CPD clinical training, which takes place a number of times a year, either online or at various locations around Ireland. This workshop has been approved for 14 CPD hours by the IACP and 12 CPD hours by the Nutritional Therapists of Ireland (NTOI). After that we sign the licensing agreement and you will be introduced and marketed throughout the Mind over Body Weight Management Programme™ channels. Further training will be provided on an ongoing basis and you are ensured of support from all of the Mind over Body Weight Management Programme™ team members. Register your interest now for the next CPD training- form to fill in.
Obesity is a major public health problem and it has more than doubled across the world since 1980. If present trends continue, by 2025, 33% of adults in Ireland will be obese. Various treatments of obesity such as diets, exercise, medication and surgery have not been successful in treating obesity. In addition, weight that has been lost is often regained and often dieters regain more weight than they have initially lost. According to the World Health Organisation, nearly all adults return regain weight within five years.
There is an ever-increasing demand for alternatives to traditional weight loss programmes which only focus on what to eat more of and what to eat less of. The reason for this is that the cause of obesity involves a complex interaction between genetic, behavioral–psychosocial, and environmental factors. As a Mind over Body Weight Management programme licensed therapist you can you're your clients to retrain their behaviours and thought processes by applying CBT and Motivational Interviewing skills to help your clients make lasting lifestyle changes. Those methods are recommended by international clinical guidelines, as they have been shown to be more effective that diet alone.
Next Training Opportunity
CBT & Motivational Interviewing for Weight Management IACP accredited workshop
Dates to be announced
In this workshop you will learn interventions to help your clients make changes to their behavior and their cognition around developing a healthy lifestyle.
In addition, you'll get the tools to help your clients overcome dysfunctional beliefs related to deprivation, and thoughts that sabotage their motivation and sense of self-efficacy.
Workshop Outline:
Overview of CBT
The cognitive Model – Dysfunctional Cognitions
Neuroscience of behavioural change
Overview of Motivational Interviewing
Dealing with reluctant/ unmotivated clients
Assessment of clients before treatment
Practical application of MI/CBT
How to build motivation
How to deal with triggers
How to deal with emotional eating
De-Catastrophising hunger
Teaching mindful eating and mindfulness application for weight loss
Cost: € 230
As a Mind Over Body Weight Management™ therapist you gain the following benefits:
Manual covering 8 weeks of the programme

Step by step – 8 modules taking your clients through the programme, Weekly Client worksheets and educational material, Client handouts with rationale and motivation,Therapists instructions

Full training on how to apply each module in detail

Training on how to work with clients online using the programme

Library of support content

Ongoing associate support via webinars

Training on how the Mind over Body Weight Management Programme™ can be applied to groups

Private membership to a closed associate only Facebook group

Continuous Brand build through media and advertising

Listing on the Mind Over Body Website as a licensed practitioner

Provision of branded social media posts

Information on how to reach and get clients for individual and group programmes.
Become  A Mind Over Body Weight Management Therapist™
Testimonials from professionals who attended the CBT & MI workshops
Melissa Hanley – Psychotherapist
I have attended Susi's first two day IACP accredited workshop on applying Cognitive Behavioral Therapy and Motivational Interviewing with clients to support them in changing their lifestyle and to lose weight. Susi was a fantastic presenter and the content of the workshop was not only evidence based research but reflected on people's experiences also. I am eager to implement the skills and what I have learned from Susi in my clinical practice to help my clients gain insight into their relationship with food and overall well-being. Thank you susi for providing not only your knowledge in this area but for a really engaging and interesting workshop. I can highly recommend this to nutritionists, dieticians, nurses, counselors and psychotherapists to inform their practice. Thanks susi
Frances Walsh – Psychotherapist
I attended Susi's first 2-day IACP accredited workshop on applying CBT and MI in working with clients with issues around food/weight. Susi is a very engaging trainer, the materials she presented are well researched and evidence-based, and the workshop was interactive and informative. The training will be particularly helpful for psychotherapists or nutritional therapists in working with clients with emotional eating behaviours and in changing mindsets to decrease sabotaging behaviours. Thank you Susi
Barbara Edwards – Life Coach
I am delighted that I decided to attend Susi's workshop. I got so much from it and I can't wait to implement it through my coaching practice here in Donegal. Susi delivers in such a relaxed and informative way making the learning a thoroughly engaging and enjoyable process. Highly recommended. Thank you so much Susi
Aine Connaire – Psychotherapist
I just attended Susi's mind over body workshop for professionals and would highly recommend it to any psychotherapists or nutritionists who are interested in learning more about how to help their clients develop a healthy lifestyle and improve their relationship with themselves and their health. I learnt so much and gained loads of information and tools that I am looking forward to using with my clients in my own work as a psychotherapist. Thanks Susi!
Olivia Beck – Nutritionist
Susi is very knowledgeable about the role CBT plays in weight management. As a practitioner, she's given me practical tools that I can utilise in my business as a Nutritionist.